Hardwood Floor Sanding & Refinishing Services
Dalene Flooring recommends sanding and refinishing your floors when they look discolored, dull looking, and/or have moderate to severe scratches.
Additionally, if the finish has worn off in high traffic areas or you'd like to change the stain color or sheen level in the floor, that is also a good time for sanding and refinishing your hardwood.
On average a typical 3/4 inch, tongue and grove hardwood floor can be sanded and refinished several times.
Conventional vs. Dustless Sanding
There are two types of sanding & refinishing of hardwood floors that Dalene Flooring offers. Our Bona Dustless Sanding & Refinishing system extracts the dust out of your home for a dust-free environment. Our Conventional Sanding & Refinishing is primarily for customers who do not occupy their home.

Dustless Sanding & Refinishing System
Refinish your hardwood floors without the dust. Airborne wood dust, a known carcinogen, is a job site hazard that is completely unnecessary. With our dust containment system, there's no airborne dust generated to permeate a home or business. Our system extracts the dust out of your house for a truly dust free process.
Clean Air, No Dust: Our Bona Dust Containment System generates 99.8% less dust in the air than traditional sanding process. This makes the air safer to breathe.
Insured, Trained & Trusted: We participate in a rigorous training process to make sure each floor is done correctly.
Durable & Beautiful Finishes: Our Bona water-based finishes dry 3-4 times faster than other products.

Conventional Sanding & Refinishing Service
Dalene Flooring offers conventional sanding and finishing of hardwood floors which can beautify your existing wood floors. We prefer to use this conventional service if you're not occupying the home as it can be a very dusty process. One of our professionals can provide a free measure, evaluate your floors and their use to properly specify the correct finishing materials and process.
Options that are available:
Types of Finish: Water-based,  Oil-based or Seal & Wax
Variety of Stain Colors to compliment any design scheme
Variety of Sheen Level
Request a Flooring Quote
Want a jump start on your project?

A sales associate will contact you within 48 hours
Request a Quote
Why Choose Dalene Flooring

As a designated Bona Certified Craftsman, Dalene Flooring has extensive experience in sanding and finishing hardwood floors.  Choosing a experienced flooring contractor will prevent your floors from being sanded too deeply, which lessons the overall life of your wood floors.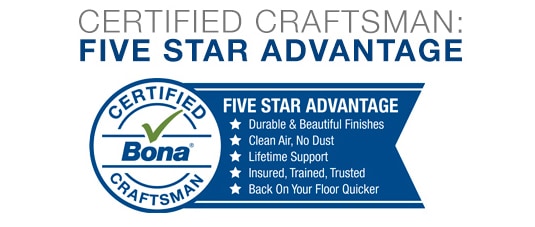 Questions We May Ask
At our first appointment, we'll ask you the following questions to better decide which service fits your project.
Is this a new or existing home with hardwood floors?
Have your floors been sanded before?
What's your current maintenance regime?
Do you have children or pets?
Hi Steve, Thank you so much for your prompt service, O'Neil did a great job! There are extremely few companies that I have dealt with that match your service and attentiveness. You have much to be proud of, and even more importantly your employees seem to love working for your company. You are a shining example of what companies should strive to achieve, kudos to you!. A grateful customer, J.D
A+ Service! Effortless to do business with, very happy.
I wanted to take this opportunity to thank you for your courtesy and your assistance in working with us. At the time, we decided to go with another company. I'd like to say that this was a mistake on our part.

Since we got our floors done, we have had problems with them and have had issues with the other company. I would like to apologize for not utilizing Dalene Flooring for our needs. Looking back, I think we would have been happier and more pleased with your services. In the future, we will definitely look into using you for any other flooring needs.

Thank you again.

Sincerely, Cheri
WOW. Outstanding customer service and installation. Lost power during the installation. The technician was very professional, went over and above - started our generator to our allow him to finish the job. Beautiful work!